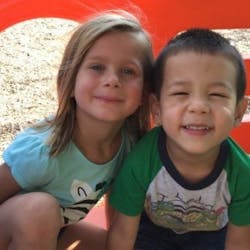 Enroll
Please submit Enrollment From for each child.
Preschool / Pre-K Enrollment Form
Summer School Enrollment Form for K-5
Immunization Form
Health Care Summary
Parents Handbook
Emergency Plan
Preschool / Pre-K--Children age 33 month-6.
Summer School --Students age 6 and up.
Who Can Participate In the Program?
Any child between the ages 33 month and 5 years old who is potty trained. We define potty trained as being dressed in cloth underwear without frequent daily accidents. Sleepy Tigers Chinese Immersion Learning Center is not equipped to assist children with potty training. We understand that regression may happen as your child becomes familiar with a new environment and will try to work with you and your child during this transition time if it becomes an issue. However, if your child has frequent accidents daily we will reevaluate whether or not your child is ready for our program.
Supervision of Children
Sleepy Tigers Chinese Immersion Learning Center follows the Minnesota Department of Human Services licensing guidelines.  Our classroom will have two teachers or one teacher and one assistant teacher. With the current space available and staffing Sleepy Tigers Chinese Immersion Learning Center could have a maximum of 81 students.
Waiting List
If no openings are available in our program at the time of your expressed interest, your application will be placed on a waiting list. You will be contacted as soon as space becomes available. You will then have two weeks to complete the admission process.