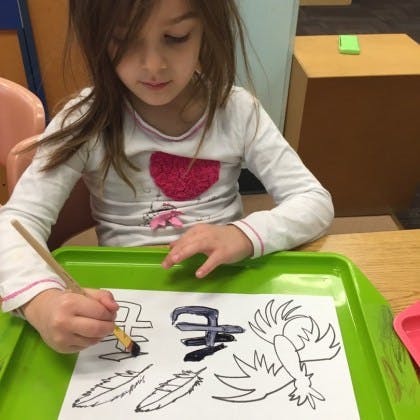 Curriculum
We believe the preschool years are the most important time in a child's language and social development. We share your desire to provide the best possible start for your child. We are dedicated to helping children discover their love of learning while developing the values and social skills required to excel throughout life.
We promote personal well-being, reinforce considerate behavior and action towards to others, gradual build-up of autonomy (the Finnish way). Our program is oriented around the following core values: LOVE, PROBLEM SOLVING, COLLABORATION, RESPECT, CREATIVITY, IMAGINATION and FUN.
Our Chinese immersion preschool & pre-k program is child centered, learn thru play and individualized learning, that will help children succeed in future school years.
"A child taught a second language after the age of 10 or so is unlikely ever to speak it like a native." That the earlier a child is introduced to a second language, the greater
the chances are that the child will become truly proficient in the language.
Students of foreign languages have access to a greater number of career possibilities and develop a deeper understanding of their own and other cultures. children who receive second language instruction are more creative and better at solving complex problems. In our Chinese immersion program, the children will learn most of their subjects in the Mandarin Chinese, we will also spend half hour per day to teach English literacy.
English Language Art (taught in English)
Chinese Language Art (taught in Mandarin)
Reading (taught in English and Mandarin)
Writing (taught in English and Mandarin)
STEM (science, technology, engineering, math, taught in Mandarin)
Art (taught in Mandarin)
Music (taught in Mandarin)
Dance (taught in Mandarin)
Physical (taught in Mandarin)
Summer School
In the summer, school age children will work in small groups, learn Chinese language and culture with activities, songs, dance, storytelling, arts, calligraphy, crafts, outdoor play, and fun games. We use project /  task-based language teaching method, students will learn and practice Mandarin Chinese through meaningful activities and tasks.